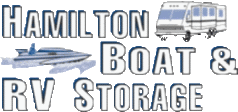 513-868-8665
4224 Trenton Rd., Hamilton, OH 45011
At Hamilton Boat & RV Storage, security of the items that you entrust with us is of the utmost importance.
You have a great deal invested in these items and we understand this.
Listed below are a few of the measures that we have incorporated to help protect these investments.
Video Surveillance with Day/Night Cameras - 24 Hrs./7 Days.
Video recordings are stored off-site.
Fully Fenced with controlled entry gate.
An 8' chain-link fence completely surround the storage facility with barbed wire fencing at the top.
Individual personal codes for entering
Upon completing a contract to rent a storage facility, each customer will receive their own personal identification number that will allow them 24 hour access to the Storage Facility
Fully Lighted
Our facilities are fully lighted keeping our property bright and secure.